Core Values: Engaging All Parts of the Body of Christ
August 21, 2020
By: José de Dios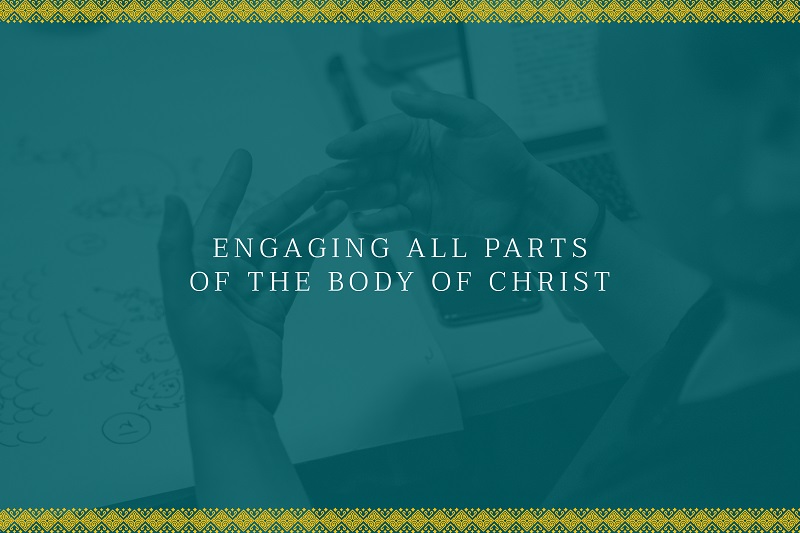 As members of one body, we seek to engage and equip Christ-following men, women and children from diverse generations, cultures and churches to participate as part of God's global mission.
One of my favorite childhood memories is of hiking up Volcán de Agua, one the highest peaks in my home country of Guatemala. However, I also remember hiking up that steep trail with a massive blister on my foot. That sensitive skin in the arch of your foot doesn't seem all that important until it's suddenly inflamed and burning with every step.
Even a small blister can throw your whole body off. First you alter your gait minutely to take the pressure away from the blister, but then your ankle begins to ache. Before long, that pain travels to your knee then settles in your lower back. To give your lower back a break, your shoulders carry more of the weight of your backpack and then your neck gets stiff.
And all because of a little blister the size of your thumbnail!
Indeed, the foot is a small part of the body, but when it isn't engaged in concert with the rest of the body, the whole body suffers.
Likewise, Romans 12:4-5 tells us: "Just as our bodies have many parts and each part has a special function, so it is with Christ's body. We are many parts of one body, and we all belong to each other" (NLT).
Jesus calls his church — the global, diverse, dynamic body of Christ made up of men, women and children from all generations, countries, races and cultures — to minister in partnership and unity to achieve God's redemptive mission. Only through true unity can we be part of bringing God's desire for the holistic transformation of all peoples, nations and tongues to fruition.
Wycliffe USA missionary Alex Larkin sums it up well in the video below: "The better we understand other people's reality, the better equipped we are to make a difference in God's kingdom."
What does it look like for us as an organization to "all belong to each other" as we walk in obedience to God's will?
We must value our diversity as the body of Christ as a beautiful strength. As such, we seek to create an environment where all people belong and relate across their differences — age, race, gender, socioeconomic background, culture, nationality, political party and more — to seek God's will and mission in our lives above all else.
Further, we must recognize that unity is the only biblical model for ministry. God's very person of the Trinity models perfect unity and communion. The fullness of God the Father, God the Son and God the Holy Spirit demonstrate God's plan for our own belonging to one another.
Something wonderful happens when the church — local, denominational, worldwide and universal — moves with one purpose in their responsibility to translate, teach and reach all people with the Bible. Because God unites us despite our rich differences in appearance, opinion and experience, we become agents of transformation. Lives are changed forever when people see the Holy Spirit's unifying action in those who have no obvious reason to belong to one another.
Not only are the lives of those we seek to serve changed, but our lives are also changed. We are not mere instruments to spread God's message to the world. Because of God's transforming love in our lives and our heritage as the unified family of God, we are part of the message.
The Great Commission is a journey for all of us. Together.