10 Things To Do in 2023: A Checklist for Your Missions Journey
January 2, 2023
By: Catherine Graul and Victoria Smith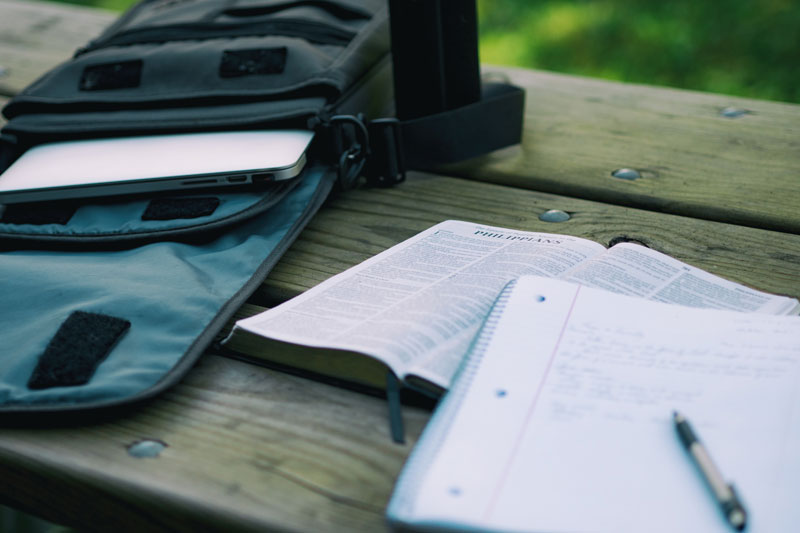 With the start of a new year, you might be inspired to make new goals and plans for the months ahead. Why not do the same for your missions journey? Here are 10 things you can do this year as you consider joining God in the work he's doing to move Bible translation forward.
1. Register for the Perspectives on the World Christian Movement course.

At Wycliffe, we're passionate about all people accessing the Bible in a language and format they clearly understand because we believe God's Word transforms lives. Why are you considering missions? If you're able to define your motivation and passion, you're more likely to be focused on what God has called you to do.

But we also know that while some people know where their gifts, talents and call fit into the larger missions movement, others might not be as sure. If you relate, check out the Perspectives on the World Christian Movement course. This course takes you on an exciting, fascinating tour of God's global mission and your place in it. Classes are in person or online, and many spring classes start in January.

2. Seek to resolve potential concerns or roadblocks.

You can probably think of a few concerns or barriers that might stall your journey toward missions: financial concerns, educational needs, personal struggles, a lack of family support and more.

What areas of your life might require God's help and wisdom to navigate? Consider writing these concerns down and maybe share them with a trusted friend. Pray through your concerns, and be open if God asks you to work toward resolving some of them with his help. "Don't worry about anything; instead, pray about everything. Tell God what you need, and thank him for all he has done" (Philippians 4:6, NLT).

3. Talk to your pastor or trusted leader.

As part of the body of Christ, you're not alone in your journey to missions. If you're thinking about becoming a missionary, it's important to let your pastor or church leader know early on in the decision-making process. By building relationships with your pastor or church leader, you will gain support and can work together to advance God's global mission.

For tips on how to start a conversation with your pastor or trusted leader when you're thinking about serving in missions, read our blog post "7 Questions to Ask Your Pastor When You're Thinking About Missions."

4. Sign up for one of our free, virtual webinars.

Now is the chance to explore what your journey to missions could look like. What organization or agency do you want to serve with? Do you have an area of the world or language community that interests you? What type of ministry do you feel called to?

To help you as you brainstorm and explore your options, consider joining one of our free, virtual webinars. As you hear from Wycliffe missionaries serving around the world, you'll discover a variety of topics ranging from Bible translation to internship opportunities to trauma healing and so much more!

5. Find your strengths.

As you pursue missions work, you might discover that a role you're interested in provides the chance to build on your skills and talents through further training and educational opportunities. Some roles in Bible translation even require specific courses or graduate school.

Before you sign up for classes or pursue higher education opportunities, be sure to talk to a recruiter. They can help you find the best and most efficient path forward in your missions journey.

6. Meet with a recruiter.

Our team of missions coaches and recruiters are the best resource to help you discover your part in missions work. The sooner you start talking to a recruiter, the faster you progress toward your next right step. Our recruiters can help you think about timing, training or education needs for serving, connect you with overseas partners so you can hear about teams and projects, and pray with you.

Even if you're not sure if you're ready for missions, you can still chat with a recruiter who will walk with you through the next steps in whatever journey God has for you.

7. Learn more about partnership development.

Many missions organizations provide salaries to their missionaries through a model called financial partnership. That means that a missionary's salary comes from gifts given to their ministry by friends, family, churches and other groups. Wycliffe calls this model "partnership development," and we've discovered that if you're up for an adventure, you'll forge meaningful relationships and advance God's global mission with the individuals, family and churches who partner with you.

We know that partnership development might sound intimidating, and we've created some helpful resources for you. You can read our blog post about five misconceptions of financial partnership, or download our PDF on how to start preparing for partnership development.

8. Develop healthy habits to strengthen your emotional health.

Missions is not for the faint of heart or spiritually complacent. A task like Bible translation often faces immense spiritual opposition, and serving on the mission field can also intensify the struggles you currently face right now.

So what can you do in order to grow mentally, emotionally and spiritually as you prepare to accomplish what God has called you to do? The first step is to ground yourself in Christ: "Put on all of God's armor so that you will be able to stand firm against all strategies of the devil" (Ephesians 6:11, NLT).

Consider how you can evaluate and strengthen your emotional health or even develop some useful habits now before you enter the mission field.

9. Serve in your community.

As you consider a path in missions that might lead you around the world, how are you engaging with the nations in your local community today? Perhaps there are ways you can support your missionary friends, serve on your missions team at church, volunteer with local ministries or pray for an unreached people group. Grow your passion for what God is doing around the world!

10. Pray about your next step.

It takes strength and commitment to navigate the complexities of a global organization. Missionaries aren't perfect: They're on lifelong journeys as they grow into the people God wants them to be. What's the next step of that journey for you?

Spend time in prayer and consider watching our webinar about spiritual preparedness. James 1:5 says: "If you need wisdom, ask our generous God, and he will give it to you. He will not rebuke you for asking" (NLT).
No matter which step you take in your missions journey, you can rest in knowing that God will guide you when you choose to face change with courage and boldly follow him. Scripture tells us: "The Lord will guide you continually, giving you water when you are dry and restoring your strength" (Isaiah 58:11a, NLT).
We pray that this checklist gives you a good foundation for your journey. God is on the move in the world, and we're excited to see him work this year!