Cooking with Kate & Mack: Bircher Muesli
A peek inside the "Cooking with Kate & Mack" cookbook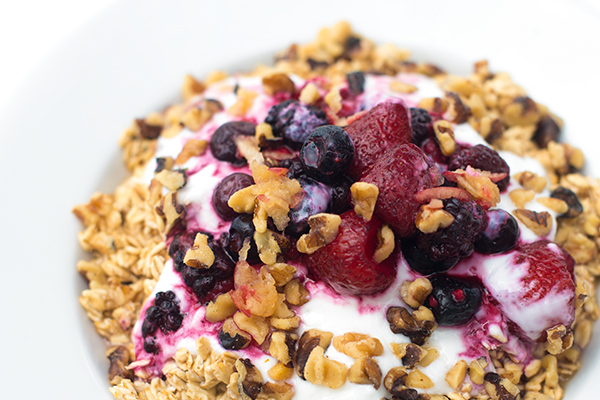 There's nothing quite like starting the morning with a hearty breakfast, right? But it can be hard to find the time between rallying kids and pets and still trying to get out the door on time. This quick dish is perfect for mornings where you're big on hunger and short on time. Most of the prep work can be done the night before!
This recipe was shared by Maria and her family who live in Germany. Maria said, "You could either eat it by itself or, if you were having a bigger breakfast, you eat it with a boiled egg and rolls or soft pretzels with butter and jelly or deli meat (like salami or ham) and different types of cheese." Sounds delicious!
Ingredients
3 cups oats
2 ¼ cups apple juice
2 ¼ cups frozen berries (you can use a mix)
3 cups yogurt
3 grated apples
¾ cup chopped walnuts (optional)
Here's how you make it:
Soak the oats in the apple juice and thaw the berries overnight. Cover the oats and keep both the oats and the berries in the fridge so they'll stay fresh.
In the morning, grate the apples.
Dish up some oatmeal into a bowl (this recipe makes six bowls).
Then sprinkle some of the grated apple, thawed berries and walnuts (if you want) on top and add a dollop or two yogurt.
Mix it well and eat up!