Cooking with Kate & Mack: Chicken Adobo
A peek inside the "Cooking with Kate & Mack" cookbook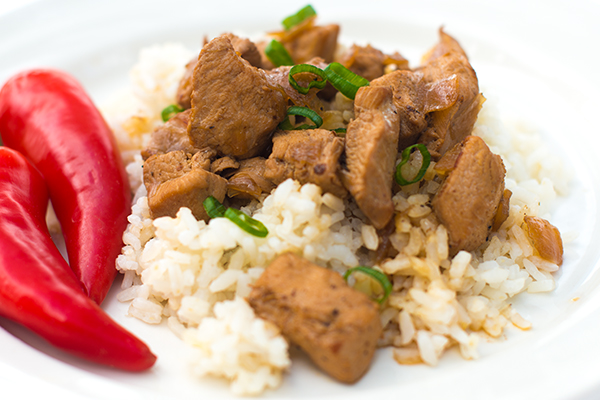 Dinner can be the best meal of the day, or it can be the most stressful. Between planning meals for the week (or even just for tonight!), grocery shopping and finding the time to cook (especially if you have young children running around the house), it can be an ordeal to have a healthy, balanced and tasty meal on the table each night.
If you're running low on cooking inspiration and want to try something new, then this chicken adobo recipe is for you! It's a delicious way to add new life into your menu. And we think it's something you'll want to eat again and again!
In the Philippines, chicken adobo is a staple meal. You'll find it on the menu at many restaurants, and it's loved by all. It can be made with either chicken or pork. This recipe calls for chicken but feel free to use whichever you might already have on hand in your freezer. Put on a pot of rice and get a taste of this popular Filipino dish.
Ingredients
3-4 chicken breasts
1 tablespoon oil
2 garlic cloves, minced
1 onion
¾ cup soy sauce
3 cups water (with three chicken bouillon cubes dissolved)
1 bay leaf
1 teaspoon pepper
½ teaspoon salt
1 teaspoon brown sugar
¼ cup vinegar
Here's how you make it
Cut the chicken into bite-size pieces.
In a pan, add the oil and cook the chicken and onions until the chicken is brown.
Add the garlic and fry for a minute.
Then add soy sauce and cook for a few minutes.
Add the water (with the chicken bouillon cubes dissolved), bay leaf, pepper, salt and brown sugar. Simmer until the chicken is fully cooked and tender.
Add the vinegar and bring to a boil.
Once that happens, turn off the heat and taste. If it's more sour than you like, add a little sugar. If it's not sour at all, add a little more vinegar.
Serve over rice (jasmine is the best) and eat up!