Praying for Papua New Guinea and the Aitape West Cluster
A look at this region and how to pray for its people.
In a remote region along the northern coast of Papua New Guinea, 11 people groups live in tightly-knit communities. They share their resources, take care of orphans and band together during difficult seasons.
Before the Aitape West Cluster project was formed, a single people group had started translating Scripture into their language. But after a devastating tsunami ravaged the region, they realized their neighbors needed God's Word more than ever.
The Aitape West Cluster project was born, and today the communities are working together to expedite the translation process and bring Scripture to all 11 people groups.
By the end of next year, each team will publish Galatians and John. Additional goals vary between languages, but many will make progress on additional New Testament books with plans to publish Mark, Philippians, 1-2 Thessalonians, 1-2 Peter and James.
Storytelling is a common cultural practice in the Aitape West region, so teams will also train local people to craft and share oral Bible stories.
Prayer points:
The communities will experience transformation through oral Bible stories.
Wisdom for translation project leaders.
Praise: The project teams have remained safe and healthy.
---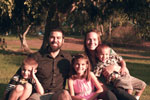 Make a Prayer Connection: Pray for God's provision for Dan and Tonita Aceves. They are looking forward to serving God through aviation maintenance in Ukarumpa, Papua New Guinea.