Paint the Little Lines: Why Your Small Areas of Influence Matter
June 1, 2022
By: Beth Matheson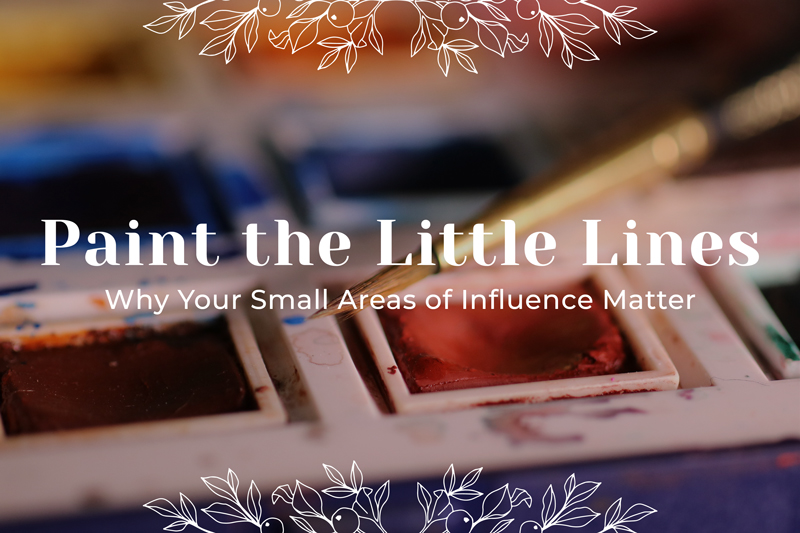 "Look at this. He actually made it!" I shoved the Christian music magazine I'd been reading into my husband's face. There in bold letters was the name of a friend from my youth group days. He'd always dreamed of making music his career, and I was glad to see that he was succeeding.
I was also a bit jealous.
In high school I'd entertained my own thoughts of moving to Nashville and trying to make my mark as a songwriter, but during college I put that goal aside to follow what felt like a more practical path. I'd traded my grand Tennessee dreams for a cramped living room decorated by a trail of toddler destruction.
With a weary sigh, I dropped the magazine on the couch and stood up to load the dishwasher. I'd wanted to make a difference in the world when I was younger, but now I spent all my time changing diapers and helping my husband keep a struggling church youth ministry afloat.
A few weeks later my husband and I got the chance to catch up with my old friend when his tour brought him to our town. I mentioned my disappointment with our tiny ministry and our mundane life. My friend shook his head and furrowed his brow. "What you're doing right now is important. Don't wish it away," he said earnestly.
Almost 20 years later, I'm still grateful for that wisdom. My friend was right: The moments that have mattered most to me have been some of the smallest — things like singing to my sleeping babies, taking walks with my husband, teaching a Bible study to a little huddle of middle school girls and crying with a close friend over a sudden loss. I haven't needed a big platform to influence people in valuable ways.
Let me be clear: There's nothing wrong with having a platform. I'm extremely grateful for the opportunity I've been given to write for people I will likely never have the privilege of meeting. But my published words will never have the same depth of impact as the conversations I have across my kitchen table.
As I've pondered this reality, a word picture has grown in my mind that I'd like you to consider with me.
Broad Strokes and Little Lines
Imagine that you're standing with a crowd of people in front of a giant canvas. Some of them are holding broad brushes and gallon buckets of brilliant pigment, and a few even have paint rollers on extendable poles. But the brush you're holding is tiny, the tip no more than a few hair widths across, and your pallet is dotted with paints that look pitifully drab. The people around you get to work, sweeping strokes of sky blue across parts of the canvas out of your reach and sketching the hazy outline of mountains on the horizon. The man on one side of you adds a stand of pines and the woman to your other side splashes wildflowers across the meadow emerging in front of you. But something doesn't look quite right. The painting, even with its wide strokes and vibrant colors, seems flat and lifeless.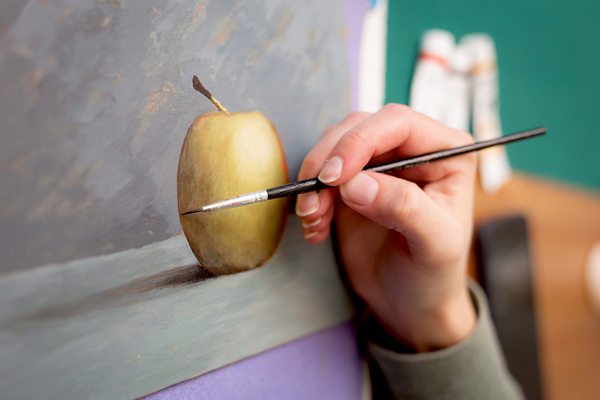 "This is where you come in," the wildflower artist smiles and moves back to give you room to work. Stepping to the canvas, you realize the wildflowers need shadows and highlights to give them depth — and your tiny paintbrush and drab pallet are the answer. As you trace the edges of each leaf with grays and browns and then blend streaks of white into just the right spot on each petal, the flowers seem to shimmer and dance.
Leaning back to check your work, you realize that a host of other people are painting alongside you, all of them adding depth to their own small sections, tracing their own little lines with focused precision. Together, with the tiny brushes, you're bringing a masterpiece to life.
The Smallest Scale
Through my work I frequently meet "influencers" — talented and hardworking women who have thousands or millions of followers and fans. The more I speak with these women, the more I hear that the most meaningful moments in their lives aren't the ones on stages in front of massive crowds. They find much greater value in smaller moments and conversations.
Jesus, arguably the most influential man in history, knew this and spent most of his earthly ministry investing deeply in 12 men. We know quite a bit about what some of those men went on to do, but the disciple Andrew gets only a few short mentions in the Gospels. His most prominent story occurs in John 1:35-42 (NLT), just after Jesus' baptism:
The following day John was again standing with two of his disciples. As Jesus walked by, John looked at him and declared, "Look! There is the Lamb of God!" When John's two disciples heard this, they followed Jesus.

Jesus looked around and saw them following. "What do you want?" he asked them.

They replied, "Rabbi" (which means "Teacher"), "where are you staying?"

"Come and see," he said. It was about four o'clock in the afternoon when they went with him to the place where he was staying, and they remained with him the rest of the day.

Andrew, Simon Peter's brother, was one of these men who heard what John said and then followed Jesus. Andrew went to find his brother, Simon, and told him, "We have found the Messiah" (which means "Christ").

Then Andrew brought Simon to meet Jesus. Looking intently at Simon, Jesus said, "Your name is Simon, son of John — but you will be called Cephas" (which means "Peter").
Andrew's most significant recorded contribution to the Kingdom of God was bringing his brother to meet the Messiah. Andrew likely didn't foresee how inviting Peter to know Jesus would launch his brother's leadership of the early church; he just knew he didn't want Peter to miss out. A single introduction profoundly influenced the birth of Christendom.
And your small actions can have their own profound influence.
Your Hidden Influence Matters
In Psalm 139:14, the psalmist declares: "Thank you for making me so wonderfully complex! Your workmanship is marvelous — how well I know it" (NLT). Each of us has been crafted uniquely by God to bring him glory. When we struggle with our purpose, we can turn to Scripture to remind us of our value and worth in God's eyes.

That's why Bible translation work is so significant: Everyone deserves to know God in their own language, experience his grace and goodness, and know that he created them for a purpose.
So whether you have a large platform or your biggest audience fits in your dining room, your hidden investments in people can actually be your greatest. While an inspirational post to thousands of followers on social media might bring light to someone's day, your personal interactions can also shape souls.
A popular singer may record music that makes your children dance, but remember that your words of comfort and encouragement will shape their lives. The owner of your favorite lifestyle brand may spark ideas for how to bring beauty to your home, but don't forget that your humble walls are the ones that offer shelter to the people you love. A gifted writer may inspire you and your friends to dig into Scripture, but you're the one who texts or calls these loved ones during the week to pray. A faraway missionary may be in the midst of helping a group translate God's Word, but your quiet prayers are also helping by carrying their weary, homesick heart.
The little lines you paint — your kindness to coworkers, the smile you offer to the teen who bags your groceries, the simple meals you share, the unhurried snuggles you give or the honest conversations you have — are bringing depth and life to your beautiful corner of the world.
What you're doing right now is important. Don't wish it away.
Paint These Important Little Lines
Consider following through on two or three of these practical suggestions of ways to add depth and life to your day as well as someone else's day:
Send a passage of Scripture to a friend and share how it encourages or challenges you.
Turn on some music and dance in the living room with your spouse, roommates, kids or by yourself!
Tell a few coworkers or loved ones specific ways you see them reflecting God's beauty and character.
Set aside your phone and other interruptions to listen undistracted to a loved one's thoughts.
Look a service worker in the eyes and genuinely say, "Thank you."
Pray over your friends and family members as you cook, load the dishwasher or clean the bathroom.
Tackle a tough conversation with humility, honesty and grace.
Let your pastor know how a specific sermon encouraged you to grow.