Passionately Giving God's Word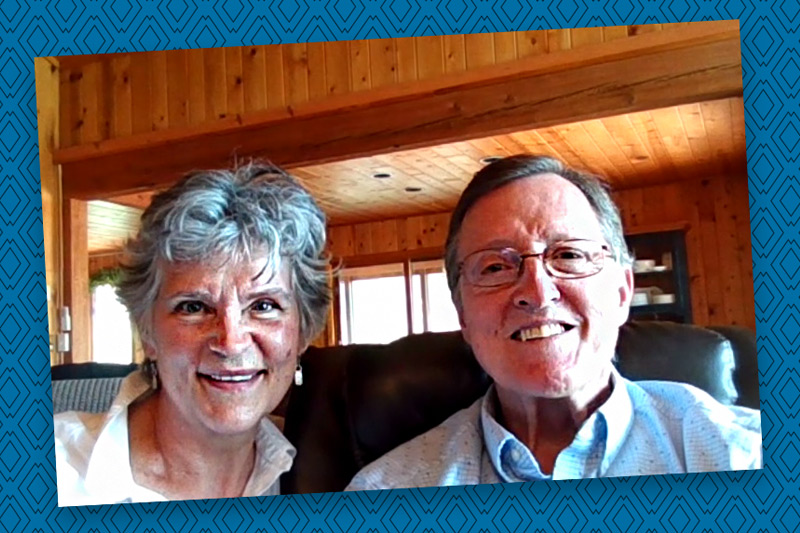 Andy and Kate Ring have lived adventurous lives filled with journeys of love and perseverance. They spent 47 years serving mainly in Africa and Asia with Wycliffe, SIL (Wycliffe's primary strategic partner) and Seed Company. Along the way, they experienced personal tragedy but remained obedient to God, and he faithfully empowered the couple to help people gain access to Scripture in their language.
The Bible has made a profound impact on the Rings. As the couple's faith in the Lord strengthened, God's Word became their guide. Kate described her passion as "a supernatural love for God's Word."
With a passion for Scripture and a desire to share it with others, God led Andy and Kate to become Bible translators with Wycliffe.
GHANA, WEST AFRICA
The Rings began their missionary work in Ghana, West Africa. During their first period in Ghana, they spent 17 years serving in the Volta Region, working to translate the New Testament into the Lelemi language. Both Andy and Kate served in various capacities during this time, which included Andy being a part of the Lelemi translation team and Kate supporting the team while homeschooling their children. Andy and Kate also grew their family into a family of 12 over the 17 years in Ghana.
In 1996, the Rings completed the first part of their work in Ghana when the Lelemi New Testament was dedicated.
After their first language project in Ghana, the Rings moved back to the United States. Shortly thereafter, the Rings were devastated by the death of their eldest son, who had been incapacitated by dengue fever. As they navigated a difficult time of grieving, the Holy Spirit began to prompt the Rings to go back to Ghana. Though they were still hurting and hesitant, the Rings were obedient to God and returned to Ghana.
NEW APPROACHES TO BIBLE TRANSLATION
In 2001 the Spirit led Andy to pioneer a new approach — cluster projects as environments for training Bible translators. For Andy and his team in Ghana, that meant four language communities would work together as a cluster to each translate Scripture into their own languages. A collaboration of this nature is not easy to organize but Andy and the team identified some essential criteria. Andy said, "The four language communities shared common languages of wider communication — Ewe and English. Also, the teams did not look down on neighboring cultures. These are essential elements for success in a cluster project." Another exciting component of this project is that each of the people groups owned their translation project, and the speakers of the languages were the ones who performed the translation work. Today this method is the primary approach that Wycliffe and its partners use in Bible translation.
On Easter of 2009 the communities celebrated the dedication of their New Testaments — just eight years after the cluster project began! It took the Lelemi translation project more than twice as long to complete just one New Testament.
TRANSLATION CONSULTANTS WITH SEED COMPANY
Following the New Testament dedication in 2009, Andy accepted a position as a translation consultant for Seed Company. Over the next few years, Andy spent time consulting in Africa and Central America. Because of his experience working with cluster projects, Andy was offered a new role with Seed Company, as the research and development coordinator for cluster projects. In this role, Andy helped to develop "best practices" for cluster programs. Kate was also asked to join Seed Company and she and Andy then spent time serving as translation consultants in Africa and South Asia.
RETIREMENT AND BEYOND
When the Rings were approaching retirement, they received a Wycliffe Foundation email that offered them help in creating a biblically-based will design. After responding to the email, they were connected with a gift planning advisor who explained how planned gifts impact Bible translation.
The couple was gently guided through the process, and Kate noted "it was a wonderful blessing." The couple made a key connection with Dallas International University which was especially important to the Rings because it opened up the possibility for them to support Bible translation training just like the training their daughter and son-in-law received. After learning about their options, the Rings made a planned gift with Wycliffe Foundation.
The Rings hope to leave a legacy of faith to their children and grandchildren, as well as a legacy that helps people receive God's Word in their language. One of the ways they'll accomplish both is through their planned gift. Andy and Kate want their gift to help as many people as possible come to Christ through Scripture in their language. "[We] want to help people stand in faith on the last day," Kate said.
The Rings' love for God and his Word has led them on a lifelong journey that's spanned three continents and has eternally affected many people through Bible translation. Andy said, "[Our] foundation for living is the Word of God and [we] want others to have it in their language."
Through the guidance of the Holy Spirit, the Rings have done just that by tremendously impacting Bible translation and continuing to do so.