5 Things To Consider Before Moving Your Kids Overseas
June 9, 2022
By: Catherine Graul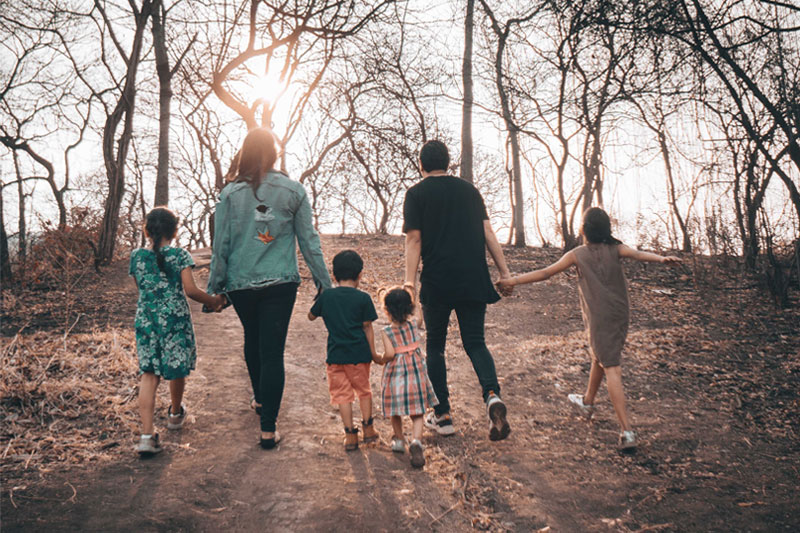 God calls whole families into missions, and although their role in God's Kingdom might look different from their parents' roles, children of missionaries have been called by God to go, live in new places and develop new relationships. When you're thinking about serving in missions, how do you involve and prepare your children in the decision process?
Alan Farlin is the global strategic third culture kid (TCK) care and education leader for Wycliffe Bible Translators USA and our primary strategic partner, SIL International. His role is to support Bible translation by helping families and their children thrive on the mission field through services and resources.
Alan and Delores have served for over 40 years with Wycliffe and over 30 years in overseas missionary education while raising four kids. But Alan is also a third culture kid (often called a "TCK"). TCKs are children who grow up in a different culture from their parents' home culture. This creates a third cultural space where the children develop aspects of both the host culture and their passport culture.
Alan understands both the parent and child perspectives of navigating transition. Here, Alan shares five principles parents should keep in mind as they consider moving their family into a cross-cultural setting.
1. Understand Their Third Culture

Missionary kids are actually a subset of TCKs, which can also include children of immigrants or whose parents work in business, diplomacy, military and humanitarian initiatives.

Alan explained: "[TCKs might] look like they are from Nebraska. They talk like they're from Nebraska. But they are not from Nebraska. Their brain and attitudes and personality don't reflect what a typical Nebraskan would think but instead reflect the culture of their host country."

He continued: "Parents need to realize their kids will be different. They won't be a traditional American anymore. Instead they will be world-oriented. And if they believe in Jesus, they will be world Christ followers. That's the exciting thing! … All of my kids have come back and thanked me for taking them overseas to give them that world mindset."

2. Include Older Kids in the Decision

When you're deciding whether or not to serve overseas in missions, it's important to involve older kids in the decision process. Younger kids should be informed and helped to transition, but teenagers should have a clear and equal voice in the decision, since the transition of going overseas can be challenging for a teenager.

Alan remembers when he and his wife were considering heading overseas for the second time. Their oldest child was in college, their second and third were teenagers, and their youngest was a toddler.

"We gave the teenagers veto power," he said.

But neither vetoed it. In fact, one of the teenagers was the one who was most excited to go back overseas, even though she knew she'd only be there for one year. "Once overseas [she] had the best year of her life up to that point," Alan remembered.

3. Start Growing Skills Now

In order to help kids transition well, Alan strongly encourages parents to help their kids develop skills that will benefit them for the rest of their lives. These skills include things like flexibility, the tolerance for ambiguity, openness and observation skills.

Alan said, "The best way you can [teach them] is to start [practicing these skills] as parents!" Alan recommends that you tell them why you're focusing on these skills and say something like, "It would be good if you'd join me in this."

Cross-cultural skills aren't just critical for healthy and positive interactions within the host culture; they're also important for engaging with the missionary community and people in their passport country.

4. Be Present In Your New Place

Alan has observed that the children who are the most emotionally healthy are not the kids who try to live exactly as they would in their passport culture. Healthy kids are ones whose parents step outside of their comfort zones to develop cross-cultural relationships with people in the host culture. When the parents are willing to develop those relationships, then the kids will too.

Alan said: "Some kids [can get] stuck back in their passport culture because they are constantly skyping or zooming or facetiming with their friends back in the U.S. instead of developing relationships where they are at. … Help your kids to adjust and adapt to where they are at," Alan advised. "Just enjoy and get involved in the host culture."

When Alan and his family moved to the Philippines, his youngest was only two years old. "Her older siblings really encouraged her in the transition to jump in and take advantage of the new culture experience," he said. "It was the part they thought was the most valuable!"

5. Build a RAFT

In order to help TCKs learn how to transition both on and off the mission field well, Alan recommends a process called RAFT (which stands for: reconciliation, affirmation, farewell and think destination), developed by David Pollock in the book, "Third Culture Kids: Growing Up Among Worlds."

During the reconciliation phase, you and your family take steps to make relationships right in your current home and address potential areas of conflict or unforgiveness with the people around you. Affirmation focuses on telling others how grateful you are for them and how they have helped you and cared for you. When it's time to say farewell, it's critical that you say intentional goodbyes to people, places, pets, activities, habits and possessions.

Finally it's time to think about the destination. Alan recommends that you spend time researching your new home with your kids and helping them get excited about things that resonate with them — whether that's school opportunities, new foods or even places to visit like beaches.
Remember: You Aren't Alone
Raising kids overseas in a cross-cultural environment is a big decision. But Alan wants parents to remember that they are not in it alone: "We can get this individualistic, can-do attitude, but you don't have to do it alone. There is a community of people who have resources and services who have been through it and can help you. Tap into that!"
If God does lead you and your family into cross-cultural missions, he will also equip and enable each one of you every step of the way.