God is using the Roviana Bible!
A look at this region and how to pray for its people.
Bible Translation
Pacific
Roviana
Solomon Islands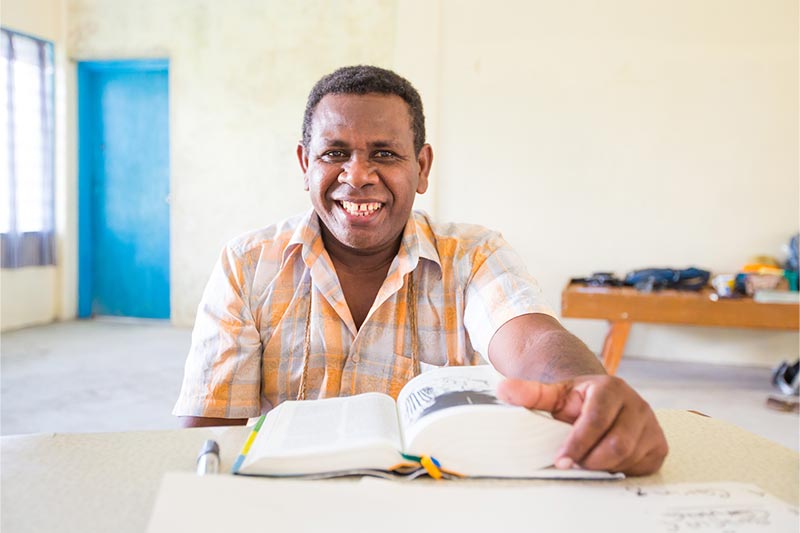 The Solomon Islands is a chain of volcanic, mountainous and heavily forested islands located northeast of Australia in the Pacific Ocean. Travel across the Solomon Islands and you'll encounter Mount Popomanaseu, Tenaru Falls and Honiara — the largest town and main port for the Islands. Guadalcanal island features multiple museums, memorials and artifacts frozen in time, including two World War II shipwrecks close to the shore at Mbonege Beach.
Even though English is the official language of the Solomon Islands, it's the first language of less than 2% of the population. Most residents speak one of over 70 indigenous languages — including Roviana.
On May 23, 1902, Reverend John Goldie led a party of missionaries to New Georgia Island to bring the gospel to the Roviana people. These missionaries included many Pacific islanders from places like Tonga, Fiji and Samoa. About a century before they traveled to the Solomon Islands, the gospel had come to those countries. And as a result of hearing the Good News, the people went out to spread its message. Exactly 115 years later, descendants of the Solomon Islanders who received the gospel in 1902 were in attendance for the dedication of the complete Roviana Bible!
The Roviana Bible — the "Buka Hope" — was celebrated in 2017 with two-and-a-half days of festivities! More than 1,000 attendees filled the church, while hundreds more sat outside. The United Church hosted the event because there was much to rejoice over! Not only were the people celebrating the 115th year of the gospel arriving to their island and the complete Roviana Bible, but they were also rejoicing at the launch of the audio New Testament in their language.
For many years, Roviana was the language of the United Church in the Solomon Islands. There are six languages in the region — Duke, Huava, Kusaghe, Marovo, Ughele and Vangunu — linguistically close to Roviana, so this BIble can be used as a source text for their translations. Pray for God to raise up men and women to translate God's Word into these languages!
Prayer points:
That people in the Solomon Islands will engage with God's Word and be transformed by the power of the gospel in their language.
The continued work of Bible translation in the Solomon Islands and across the Pacific.
Praise: Local translators and organizations are working together to further the work of Bible translation.