Meet Panuwat Manee: A Passion for Video
May 31, 2017
By: Matt Petersen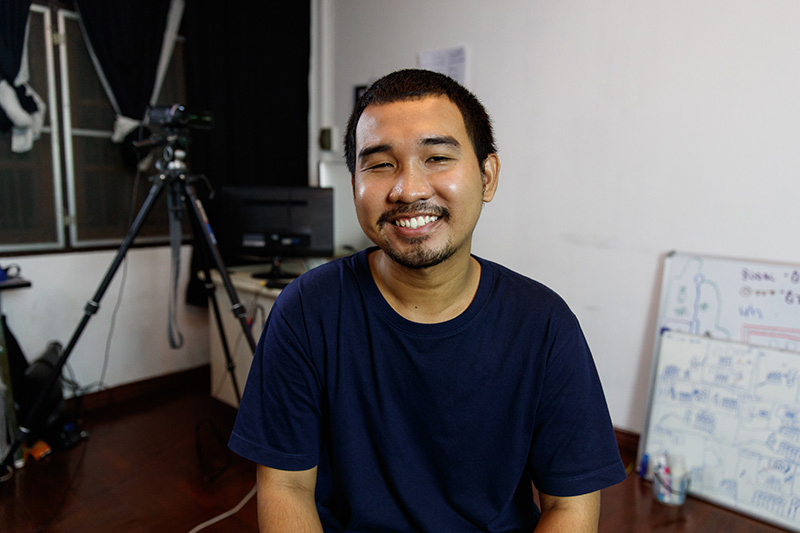 Teaching yourself a complex computer program like Photoshop takes a special gift. Not everyone can do it. But it's especially difficult for people who struggle to read, like Panuwat Manee, the video editor for the Thai Sign Language team.
"Reading is really difficult for most of the Deaf," said Panuwat. That's because Thai Sign Language is visually dynamic, while reading is static and two-dimensional. But it's also because spoken Thai and Thai Sign Language are completely different languages. So for Panuwat and other Deaf, reading means not only learning a new form of communication, but also learning a new language.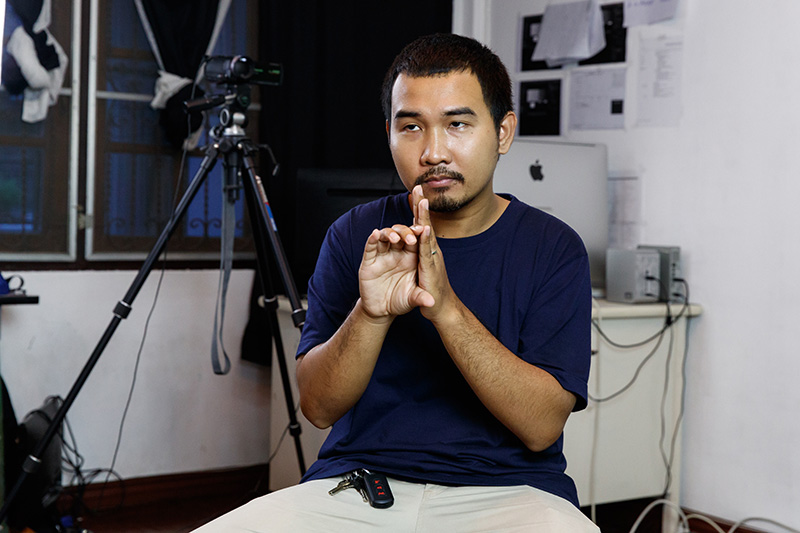 Although reading has always been difficult, Panuwat's natural gift for technology helped him excel in studying computers and video. "In school I had a teacher who taught me the basics of video editing — just the basics," said Panuwat. "Then after school I learned Photoshop. I just tried, even though it was kind of messy. I would look at the book, try to figure out what the instructors were telling me to do, and I would just try."
Discovering New Passions
Once Panuwat graduated from school, job options were limited. It's hard for the Deaf to find work in Thailand. Because of communication challenges, employers often prefer to hire hearing people instead of the Deaf. As a result, many Deaf resort to menial work as street vendors, where pay is poor and business is unpredictable. So when Panuwat found a job doing laundry in a hotel, he accepted the position. Although laundry was far from his passion, he enjoyed working with his hands and it offered steady pay.
One day Panuwat went to a reunion of students from the Deaf school he had attended. There he struck up a conversation with a young woman named Pastraporn Sarakong, who he had secretly had a crush on for years. During that conversation Panuwat found the courage to tell Pastraporn how he felt about her. Surprised, but pleased, later Pastraporn invited Panuwat to come with her to a Christian camp for the Deaf. Although Panuwat was Buddhist, he agreed to attend. That was where he learned about Jesus.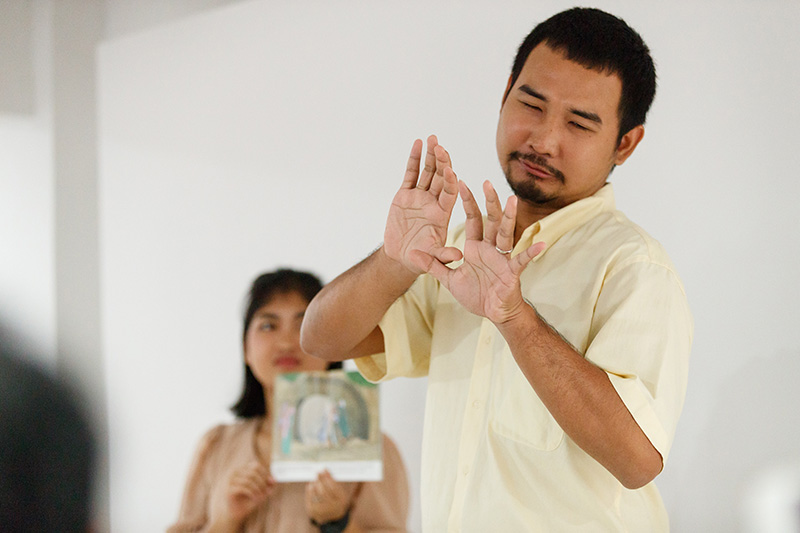 "When they talked about Jesus' crucifixion, I didn't feel very much," said Panuwat. "But the next day a Deaf evangelist continued the story, and I realized, 'Man, this is important!' I thought, 'Even if you do good works and you're really clean and pure, you can't go to heaven? Really? I want to see the passage. Show me!' And I saw it, and it was true — that's what the Bible said."
Feeling deeply convicted, Panuwat returned home and joined a Christian fellowship. Several months later, he accepted Christ. Now with a shared passion for Jesus, Panuwat and Pastraporn's relationship blossomed. It wasn't long before they married.
How it All Came Together
Pastraporn joined the Chronological Bible Translation team before Panuwat did. It all started when someone invited her to attend a translation workshop. There she discovered she had a natural gift for both sign language translation and leadership. The translation team invited Pastraporn to join them, and within a year she began serving as the team leader.
But when the team approached Panuwat about joining them as a video editor, at first he wasn't sure. He was reluctant to leave his safe, steady job, and he wasn't confident he could handle the technical challenges.
"'You're good in editing,' they told me," said Panuwat. "I thought, 'I don't know. I just really like working with my hands.' But they said, 'No, we think you can do the work. It's important to help the Deaf. You can help with your editing skills and your video skills."
Because sign language is visual, the translation process looks very different from a written language. Each draft of the translation consists of signers narrating the Bible stories on video. An editor like Panuwat needs to not only be able to shoot and light video, but also cut all the footage together into a professional final product. Panuwat realized he still had a lot to learn, but with Pastraporn's encouragement, and after much thought and prayer, he finally agreed to join the team.
A Process of Trial and Error
In the last couple years, Panuwat has continued to develop his editing skills through trial and error. "Before we really had a problem with using the green screen," he said. "We didn't have a curtain yet — just a green wall. We also had a challenge with the camera, getting our frame the right size. … So a lot of details like that were difficult."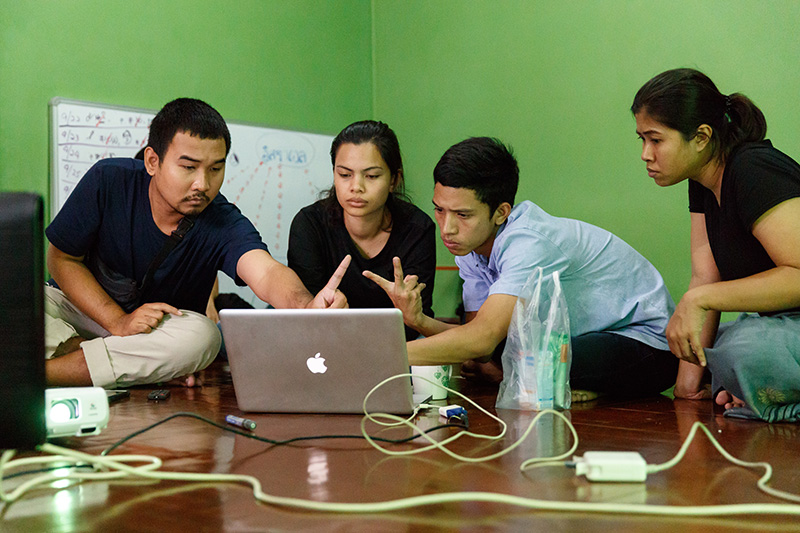 Panuwat has also learned a lot about the challenges unique to sign languages and Bible translation. Because sign languages are visual, translators have to find ways to communicate certain story details that the hearing might not consider critical. For example, in the story where Cain killed Abel, the Bible doesn't tell us exactly how he did it. Did he sneak up from behind and surprise Abel or did he charge at him from the front? We really don't know. But without that sort of detail, it is difficult to translate smoothly into sign language. "That's something you don't think about in spoken language," said Panuwat, "that positions in physical space are really important."
Creating and organizing new signs is another challenge for the team. "There are a lot of words that occur often in the Bible, like 'Moses' and 'Abraham,' that you want to come up with terms for," said Panuwat. "If it's a term that's not used very often, sometimes we'll just fingerspell it." But fingerspelling uses the spoken Thai language, which doesn't communicate clearly to the Deaf. It works much better when the team creates unique signs that reflect the visual or action-oriented characteristics of each new person, place or idea. For example, instead of spelling out the name of the Apostle Thomas in Thai, they might create a unique sign for this apostle that incorporates the symbol for a question, since Thomas is best known for his doubts.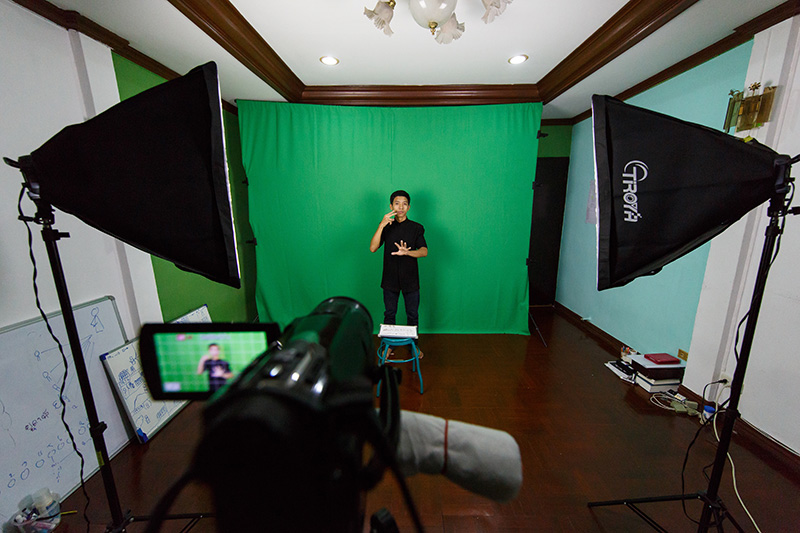 Of course, it takes time to check each new sign with the Deaf community. And that can lead to yet another challenge unique to sign language translation. When you translate for a written language, it's easy to go back and update a term as you discover new insights. All you have to do is electronically search the document for every place that term is used and replace all with the new term. But when you're working in video, changing a term is much more involved.
"If we go back and create a new sign or change a sign, we have to redo the story," said Panuwat. "For example, before we had done a story about a Deaf man who was healed, and we hadn't done place names yet — we just fingerspelled them. But when the Deaf saw it, they said, 'Hey, no! There are famous ruins in that place that you can use to make a sign name. … You should make an actual sign name for it instead of just fingerspelling.'" So in order to maintain the quality and integrity of the story, the team had to go back and re-shoot the whole story, making sure not to introduce any new mistakes in the process!
Prayerful Perseverance
This is just a sampling of the many challenges the team faces every day. It's hard work, with a steep learning curve, but they're excited to see the Bible coming alive, both on screen and in their lives. And Panuwat is looking forward with hope to what God is going to do in the future.
"I want to ask everyone around the world to help us. Pray for the Deaf — many of them are sad. Pray that they would persevere in their language and culture. Also please help us find sign language translation consultants. There are not enough. Come and join us. We need more people on our team."